Pin It
This is the wreath I just made. It was really easy. It took me about 1 to 1 1/2 hours to make.
I fell in love with this wreath I saw on pinterest and wanted to create something similar for my door.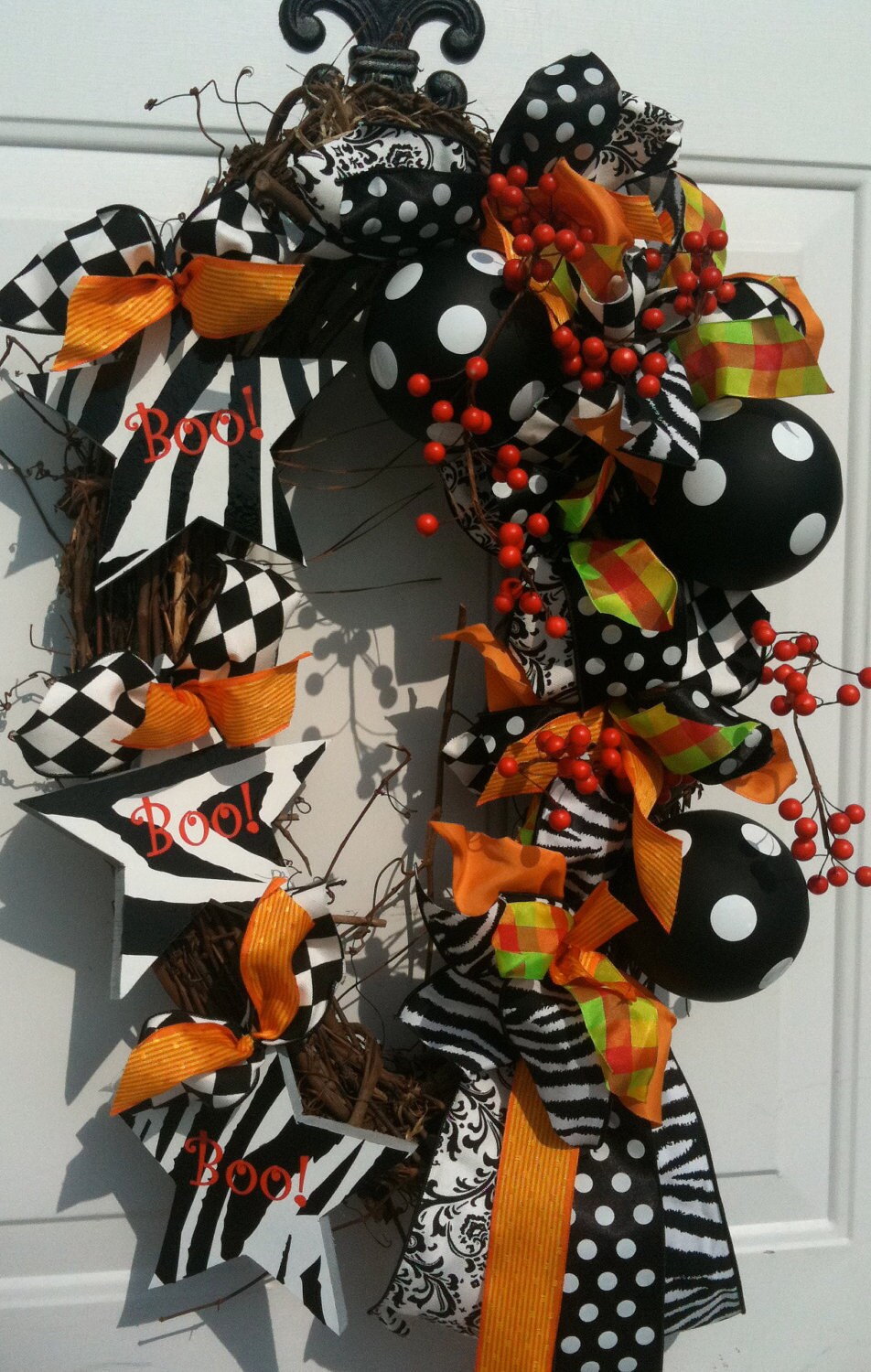 Picture from Etsy/mopheads
My favorite part of this wreath is the black and white polka dot balls. I couldn't find any so I improvised by covering Styrofoam balls with some polka dot fabric. I actually found a bandanna at Michael's and cut that up.
All of my supplies came from Michael's. I used:
1. a grapevine wreath
2. Ribbon. I used two spools of each ribbon except for the rainbow ribbon because I could only find 1 of them. Each spool had about 3 yards on it. I paid a dollar for most of the spools. I think I have about 5 different kinds of ribbon.
3. White, wood letters B,O,O.
4. Orange beads, orange and purple flowers. These were a dollar per little bunch of about 3.
5. Patterned paper to cover letters. (I just used some I already had.)
6. Black ink
6. Wire
7. Wooden dowel
8. Hot glue
I should have taken pictures, but I was so excited to make this that I didn't think about that till later. No biggie though. It's pretty easy. Besides, you can do it however you want to. You may have a better way.
I started by tying the ribbon around the wreath in double knots. I tie the ribbon before I cut it to make it go as far as possible. So I just take the ribbon still attached to the spool. Tie a double knot, then cut. I used one spool at a time spacing the tied ribbons out semi-evenly around the wreath until I had no space left for any more ribbon. It looked cute with half the ribbon, but I wanted it to be full so I Kept tying till my ribbon was all gone except for about a yard to hang the wreath with.
I tucked the beads and the flowers underneath the ribbon spacing them out semi- evenly.
I wrapped some of the polka dot fabric around the Styrofoam balls. Gathered the fabric at the top of the ball and secured it with wire leaving the wire cut long so i could wire the ball to the wreath. I only had four balls and like to use an odd number so to balance it I paired up two of the balls to make it appear less symmetrical. I used my glue gun to hold down any fabric that escaped from the wire.
I traced the wood letters onto patterned paper. (Not a big fan of animal prints so I did argyle instead.). Attached the paper to the letters using Mod Podge. Brushed a coat of Mod Podge onto wood letter with a sponge brush. Added paper, let dry then sanded edges to make them even with the wood letter. Then I inked the edges of the letter with black ink. I brushed on another layer of Mod Podge and let them dry. The letters had a shallow hole drilled into the bottoms and I glued a 1 1/2" long piece of a wood dowel in the hole with hot glue.
Using my glue gun I added the wood letters to the wreath by covering the dowel with glue and then sticking it down between the layers of the grapevine wreath and then adding more hot glue to it.
I threaded about a yard of ribbon through the top of the wreath and tied a bow to hang the wreath with.
That's it! Wreath done! Yay!!! I really love how it turned out! If you make one let me know I would love to see pictures!
Come back soon,