Hayley leaves for her mission to England in about 3 months. Yay! I am so excited for her. Having just finish with all of the wedding stuff, it's time to shift the focus to getting Hayley prepared and to steal as much quality time with her as possible.
You remember Hayley, right? Gorgeous, long, red hair?? She is going to be serving in a country where it rains a ton!!! This is actually great news to Hayley because she absolutely adores the rain. Every time it rains she puts on her running shoes and heads out the door to enjoy it. This mission is a perfect fit for her. So what is a girl with gorgeous, long, red hair to do with that hair to keep it looking beautiful in spite of all that rain?
I found the perfect solution! I bought this ebook for Hayley to use now and for her mission. She was so excited! She's already been practicing a lot of the braids and hairstyles in this book. She's become an awesome braider. (I know that's not a word, but it kind of works anyway, doesn't it?) Hayley's favorite hairdo so far is "the Braided Headband", but she uses a dutch braid. (An outie braid as opposed to the regular inny braid). (Also not words, but what the heck.)
This is the blog I got the ebook from. Remember my post on the
"Tangled Young Women Activity"
? This is the site I talk about in that post. The website is called "My Yellow Sandbox" You'll love the blog too.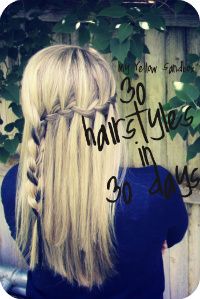 The ebook is SUPER inexspensive, only $4.99. and you get a password that gives you access to youtube videos on most of the hairstyles. The book has an instruction page with pictures for each hairstyle.
I just downloaded it, printed it out (48) pages. I added a piece of white cardstock to the back and a see trough binder cover sheet (Purchased at Office Depot)On top and then I bound it all with my Cinch (That I got at Hobby Lobby with a 40% off coupon).
I already gave Hayley her book, but wouldn't this make a darling package?
the book, some hair products and some tools and accessories like Bobbi pins and elastic bands.
Come back soon,