These are the Valentines Kade gave his class this year.
I cut the boxes out on my
Cricut
using the
Artiste
Cartridge. Kade wanted them filled with tootsie rolls.
You can print the tags
HERE
I just printed the first page, then turned over and printed the second page so it would appear on the back.
I added a googly eye and tied attached the tag with some curling ribbon. For Kades teacher I wrapped a Strawberry Ritter bar in the same paper and attached the tag with tuelle.
I also made some boxes for Visiting teaching, but they have Dove chocolate hearts in them.
This year Kade's class made Valentine's boxes. He really wanted to make a volcano box. This is what he came up with. He had the right idea, but it wasn't going to work. He was so cute. He said, he didn't really want to take it to school because he'd be embarrassed. I asked him if he wanted help and he gladly accepted.
The next night he was going to a basketball game with his brother's so I needed to get a lot of it done on my own, yet I wanted him to do some too.
Honestly, as I racked my brain trying to think of how to make a volcano box. I could not come up with anything. We started looking online and Kade really liked
this pirate ship.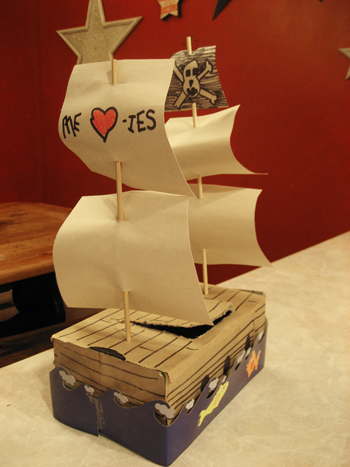 We had to finish it in one night with supplies we already had on hand so this was a great choice.
I used a Kleenex box. I covered all sides with tan card stock. Made the little trap door for the valentines. Added the saisl using wooden skewers (You would be surprised how often I use these). And used my Cricut to cut out the skull and crossbones, waves and sea creatures etc. Kade totally got the "Yo Ho me Hearties, but he was the only one. Hahaha. Whatever!
I used my xyron to make stickers out of the sea creatures and left those for Kade to embellish with.
I forgot to take a picture of the box when Kade finished with it. He just put the stickers mostly where the water was. He was happy with the way it turned out.
Come back soon,